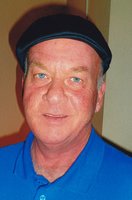 Brian Aitken
Brian Charles Aitken went home to be with his Lord on November 30,2017 after a valiant battle with cancer. His devotion to his family, his firm belief in God and the support of his Christian community upheld him in his struggles and ultimately gave him peace. Brian was born to Charles(Chuck) and Marjorie Aitken, on December 18, 1961. He was born again in December 1980 through his belief in the death and resurrection of the Lord Jesus Christ, the Son of God. His life was marked by his desire to follow in Christ's footsteps as He said: "the Son of Man did not come to be served, but to serve"(Matthew 20:28). As a result, Brian spent his life serving others by coaching hockey and baseball, teaching Sunday school, leading various kids' programs, being a foster parent, and supporting individuals with special needs. He strove to be Jesus' hands and feet in this world. He was blessed with a loving family. Brian married his best friend, Kim, on August 20, 1982. He was blessed with two amazing sons, Jacob and Zachary whom he regarded as God's greatest gifts next to his salvation. In his years of work, first for Christian Horizons and then Lambton County Developmental Services, Brian never considered it a job and would marvel that he was paid to spend time with these amazing people. As a foster dad, Brian had the privilege of serving families who were going through hard times. His life was enriched as he shared Christ's love with these precious children.
He will be greatly missed by his loved ones who celebrate the fact that he is at peace with his Creator. Brian is survived by his wife Kim;his sons, Jacob and Zachary; his daughters of the heart, Ila and Katrina; his mother Marjorie; his sisters Linda DiMarco and Sherry Aitken; his parents-in-law, Jack and Beryl Rome; his brothers-in-law, Dean DiMarco and Bob Wonderhem; his sister-in-law, Kari Lonergan; his nephews, Justin(Lisa), P.J., Dylan, and Derek; his nieces, Andrina, Jennifer(Mike), Amanda(Paul), Sarah, Jaymie Lee, Taylor, Trinity, Kaitlyn, Donnelle, and Caitlin; his great-nephews, Leo and Owen; his great-nieces, Emma, Katherine, and Erin.
A special thank you to Dr. Crombeen and the palliative care team(both staff and volunteers)at both Bluewater Health and St. Joseph's Hospice. It was difficult for Brian to transition from being the caregiver to being the one receiving care but he was greatly blessed by your patience and kindness. Our family was also very spoiled by all the staff at both locations and you helped us through this difficult time with true compassion.
We will celebrate Brian's life at Forest Baptist Church on Monday, December 11, 2017, at 3:00 pm, followed by a reception. Visitation will take place at the church from 1:00 pm - 3:00 pm. Pastor Mark Kennedy will officiate. It is Brian's request that those attending dress casually (preferably jeans). The family gratefully declines flowers, but donations of unwrapped new toys, books,or pyjamas will be gladly accepted and distributed to Christmas charities. Online condolences may be left at www.denning.ca Funeral arrangements entrusted to DENNING'S OF FOREST